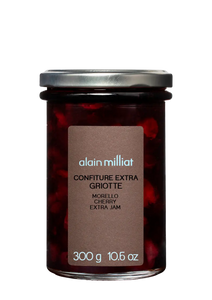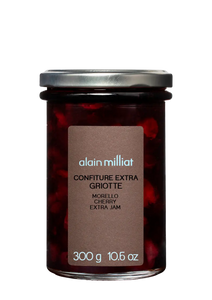 The Alain Milliat way

Best savouring moment:
Brunch, Tea Time

Pairing:
Bleu d'Auvergne, pain au levain

A conserver à température ambiante avant ouverture
Se conserve 15 jours après ouverture à 4°C
"La griotte est une cerise acide. Elle n'absorbe pas complètement la douceur du sucre et révèle alors un contraste agréable."

Alain Milliat
Ingredients and nutrition facts
Préparée avec 63g de fruit pour 100g
Teneur totale en sucres : 57g pour 100g
Ingrédients : Griotte, sucre, gélifiant : pectine.
Malgré toutes nos précautions, cette confiture peut contenir un noyau.
Allergène : aucun
Valeurs nutritionnelles – pour 100ml :
Valeur énergétique : 234 kcal (996 kj)
Matières grasses : 0 g dont acides gras saturés : 0 g
Glucides : 58 g dont sucres : 58 g
Protéines : 0,7 g
Sel : 0,02 g
Garanti sans OGM